Linus Wekesa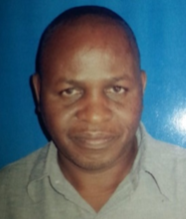 Linus Wekesa
Regional Director: Coast Eco-Region
| | |
| --- | --- |
| E-mail | : lwekesa@kefri.org |
| Researcher ID | :0000-0003-4883-3098 |
| Expertise | : Agricultural Economics |
Journal Papers
Wekesa L., Mwalewa S., Muema K., Muthini J., Riziki P., Mukirae P. and Manya C. 2019. An economic assessment of woodlots for smallholder farms in coast region of Kenya. East African Agricultural and Forestry Journal, 83:1, 1-12, DOI: 10.1080/00128325.2018.1532694 Wekesa L., Maalu J. K. and Wainaina G. 2016. Influence of firm level institutions on the relationship between competitive strategy and firm performance of non-timber forest products small and medium enterprises in Kenya. International Journal of Economics, Commerce and Mgt, 4 (8), 115-129 Wekesa L., Maalu J. K., Gathungu J. and Wainaina G. 2016. Influence of Entrepreneur Characteristics on Performance of Non-Timber Forest Products Small and Medium Enterprises in Kenya. DBA-Africa Management Review, 6 (3), 16-26 Wekesa L., Muok B. O., Okia C. A., Mbwambo L., Balama C., Chikamai B.E.N., Eyog-Matig, Atieno F., and Opolot V. I. 2015. Market characteristics of indigenous tree fruits in East Africa: Case of Tamarindus indica, Vitex doniana and Sclerocarya birrea. Prime Journal of Social Science (PJSS), 4(5), 2315-5051 Maalu J.K. and Wekesa L.C. 2013. Institutional factors and firm performance of SMEs. International Journal of Arts and Commerce (IJAC), 1(7) Maalu J.K. and Wekesa L.C. 2013. Firm strategy impact on performance of small and medium enterprises. Prime Journal of Social Science, 2(1), 176-180 Wekesa L. C., Muthike G. M., Githiomi J. K. and Muga M. O. 2012. A review paper on overview of wood carvings industry developments in Kenya. International Journal of Current Research. Vol. 4, Issue, 09, pp.086-091. Wekesa L., Muturi G., Mulatya J., Esilaba A.O., Keya G.A. and Ihure S. 2012. Economic viability of Melia volkensii (Gurkii) production on smallholdings in drylands of Kenya. International Research Journal of Agricultural Science and Soil Science (ISSN: 2251-0044), 2(8), 364-369 Wekesa, L., Ng'ethe R., Wamahiu P, Esilaba A. and Muturi G. 2010. Analysing economic potential of jatropha in Kenya. East Africa Agriculture and Forestry Journal, 76(1), 1 - 10
Books
Musingo Mbuvi,Linus Wekesa, Mogeni Ntabo, Bernard Owuor, Chemuku Wekesa, Alfred Eshitera, Monica Karangi, Lynnete Cheruiyot, Paul Manyala, Michael Okeyo, Mohamed Sheikh, Kimani Kihara, Mbae Muchiri, Paul Ongugo, Adan Kala and Bernard Owuor. 2016. Capability mapping for growing high value tree species in the coast region of Kenya: a guide for forest managers, extension agents and investors. KEFRI, Print Maxima, Nairobbi
Luvanda A.M., Musyoki J., Cheboiwo J., L. Wekesa and Ozawa M. 2015. An assessment of the socio-economic importance of Melia volkensii based enterprises in Kenya. KEFRI/JICA Project
Book Chapter
Sammy Carsan, Linus Wekesa and Grace Koech. 2016 Tamarind value chain development for enhanced biodiversity conservation and livelihoods in East Africa. Book Chapter in World Agroforestry Centre (ICRAF)
Wekesa L., J. Mulatya and Esilaba, A. O. 2011. Bio-socio-economic factors influencing tree production in south eastern drylands of Kenya. A book chapter in A. Bationo et al. (eds.), Innovations as Key to the Green Revolution in Africa, DOI 10.1007/978-90-481-2543-2_105. Springer Science+Business Media B.V. 2011
Esilaba A.O., M. Okoti, G.A. Keya, J.M. Miriti, J.N. Kigomo, D. Nyariki, G. Olukoye, L. Wekesa, E.W. Ego, G.M. Muturi and H.K. Cheruiyot. 2011. Upscaling best-bet technologies in arid and semi-arid lands in Kenya. A book chapter in A. Bationo et al. (eds.), Innovations as Key to the Green Revolution in Africa, DOI 10.1007/978-90-481-2543-2_105, © Springer Science+Business Media B.V. 2011
Munyasi JW, Esilaba AO, Nyamwaro SO, Emongor R, Wekesa L, Maina IN, Miruka KM, and Kibet PK. 2010. Assessment of training needs for mainstreaming integrated natural resource management in agricultural research and development institutions in the Greater Makueni district, Kenya. Paper presented to 12th KARI Biennial Scientific Conference, 8th to 12th November 2010
Technical Notes /Protocols/Guidelines
Wekesa L. 2010. Determination of Success Factors for SMEs in Value Chains of Non-Timber Forest Products in Drylands of Kenya. School of Business, University of Nairobi
Wekesa L. Mutune J. 2009. and Muthike G. Market Access Strategies for ecological resource products: Obstacles and opportunties for rural communities. Working Paper.
Wekesa L., Ihure S., Kariuki P. and Mbuvi M. 2009. Timber Enterprise Development and Marketing in Kitui, Mbeere and Tharaka Districts. Unpublished technical note.
Muok B., Wekesa L. and Owuor B. 2007. Distribution and utilization of Berchemia discolor in drylands of Kenya. Kenya Forestry Institute, Kenya.
Wekesa, L., Wang'ombe, E., Mukolwe, M., Yamada, I. and Sato, Y. 2005. Marketing study of ecological resource products. Intensified social forestry in semi-arid areas project (ISFP). Available on line at http://www.isfp-fd.org
Wekesa, L. and Mulatya J. 2004. Determination of existing and potential opportunities in processing and marketing of baobab and Tamarinds as indigenous fruits in the drylands South East Kenya.
Mbabu, P. and Wekesa, L. 2004. Status of indigenous fruits in Kenya. A report prepared for IPGRI-SAFORGEN in the framework of AFREA/FORNESSA.
Kimotho, L., Ochieng D. and Wekesa L. 2003. Promising dryland crops and cultivars for improved food security and incomes in the drylands South East Kenya.
Wekesa, L. and Mulatya J. 2003. Comparative Profitability Analysis of Crops and Trees on Smallholdings in the Southern Drylands of Kenya
Wekesa, L. and Kimotho L. 2002. Evaluation of profit maximizing crop enterprises on small-scale holdings in the ASAL areas South Eastern Kenya: ARIDSAK Project area case study.
Wekesa, L. and Gerkens M. 2002. Cost/benefit analyses for the water accessing technologies and methodologies in the drylands.
Wekesa, L., Mulatya J. and Gerkens M. 2001. Marketing of agroforestry products in the semi-arid areas of South Eastern Kenya: The case of the drier parts of Makueni and Kajiado Districts
Conferences/Seminars/Workshops
Wekesa L., Maalu J., Gathungu J. and Wainaina G. 2018. Status and Growth Determinants of Non-Timber Forest Products Firms in Kenya. Paper presented to the 5th KEFRI Scientific Conference on Contribution of Forestry Research to Sustainable Development, held at KEFRI Headquarters, Nairobi, 17th to 19th April, 2018
Wekesa L., Mwalewa S., Muthini J., Riziki P., Muema K., Mukirae P. and Manya C. 2018. Financial Assessment of Woodlots on Smallholdings in Coast of Kenya. Paper presented to the 5th KEFRI Scientific Conference on Contribution of Forestry Research to Sustainable Development, held at KEFRI Headquarters, Nairobi, 17th to 19th April, 2018
Wekesa L., Maalu J. K., Gathungu J. and Wainaina G. 2015. Effect of Entrepreneur Characteristics on Performance of Non-Timber Forest Products Small and Medium Enterprises in Kenya. XIV World Forestry Congress, Durban, South Africa, 7-11 September 2015
Kigomo J.N., Esilaba A.O., Keya G.A and Wekesa L. 2009. Rangeland Rehabilitation: Experiences from the Desert Margins Programme (DMP) in Turkana District of Northern Kenya. Paper presented to the World Congress of Agroforestry 2009, Nairobi Kenya 23 -28 August 2009.
Wekesa, L. Mulatya J. and Misenya, T. 2006. Bio-Socio-Economics of Tree Production in the South Eastern Drylands of Kenya. (in) Muchiri M.N., Kamondo, B., Ochieng, D., Tuwei, P. and Wanjiku, J. (eds.) Forestry research in environmental conservation, improved livelihoods and economic development: Proceedings of the 3rd KEFRI scientific conference, Kenya, 6 to 9 November 2006.
Wekesa, L., Mulatya, J., Kimotho, J. and Wilson, J. 2005. Profitability of Crops and Trees on Small-scale Farms in the Southern Drylands of Kenya. (in) Muchiri, M.N. Kamondo, B., Tuwei, P. and Wanjiku, J. (eds.). Recent advances in forestry research and technology development for sustainable forest management: Proceedings of the 2nd KEFRI Scientific Conference, Muguga, Kenya, 1 to 4 November 2004
Employment History
June, 2016 - Date: Principal Research Scientist, Socio-economics, Kenya Forestry Research Institute (KEFRI), P.O Box 20412 -00200 Nairobi, Kenya
Aug 2011 – May 2016: Senior Research Scientist, Socio-economics, Kenya Forestry Research Institute (KEFRI), P.O Box 20412 -00200 Nairobi, Kenya
May 2005 – July 2011: Research Scientist I, Socio-economics, Kenya Forestry Research Institute (KEFRI), P.O Box 20412 -00200 Nairobi, Kenya
Aug 1999 – April 2005: Resource Economist, ARIDSAK Project, Kenya Forestry Research Institute (KEFRI), P.O Box 20412 -00200 Nairobi, Kenya
Jan 1993 – July 1999: Agricultural Officer, Ministry of Agriculture and Livestock Development
Administrative Responsibility
October 2018 – date: Regional Director, Coast Eco-Region Research Programme, Kenya Forestry Research Institute (KEFRI), P.O Box 1078 -80200 Malindi
Aug 2011 - Sept 2018:Deputy Regional Director, Coast Eco-Region Research Programme, Kenya Forestry Research Institute (KEFRI), P.O Box 1078 -80200 Malindi
Aug 2011 - Oct 2014: Technical Coordinator, Kenya Coast Development Project, Kenya Forestry Research Institute (KEFRI), P.O Box 1078 -80200 Malindi
Mar 2003 - Dec 2004: Project Coordinator, Desert Margins Project (DMP), Global Environment Facility (GEF), Forestry Component, Kenyan Chapter, Kenya Forestry Research Institute (KEFRI), P.O Box 20412 -00200 Nairobi
Sept 2001 - May 2002:Project Manager, Agroforestry for Integrated Development in Semi- Arid Areas of Kenya (ARIDSAK) Project, Kenya Forestry Research Institute (KEFRI), P.O Box 20412 -00200 Nairobi
Academic Qualification
2010 – 2015: Ph.D Business Administration (Entrepreneurship & Small Business Development), School of Business, University of Nairobi
1991 – 1993: Masters of Science in Agricultural Economics, College of Agriculture and Veterinary, University of Nairobi, Kenya
1987 – 1990: Bachelor of Science in Agriculture (Upper second class) 1990, University of Nairobi, College of Agriculture and Veterinary
Other Courses
February, 2019: Certificate on "Senior Management Course" by Kenya School of Government
October, 2015: Performance management. Held at KARI Thika from 15th to 30th October, 2015
June 2014: Counterpart training course on extension, JICA. Held in Japan from 1st to 28th June 2015
December 2009: Scientific Communication and Publishing by Training Centre in Communication (TCC), University of Nairobi, Chiromo Campus (1 week). 14th to 18th Dec 2009
December 2008: Policy Dialogue Forum. Biofuels for Poverty Alleviation. Sponsored by the Federal Ministry for Economic Cooperation and Development on behalf of the Government of the Federal Republic of Germany and implemented by InWEnt in cooperation with UNEP-DTIE and FAO
August 2008: Monitoring and Evaluation of projects. Organized by Kenya Agricultural Productivity Project (KAPP) - 2 weeks in August 2008
September 2006: Participatory Approaches to Research and Scaling Up. TSBF of CIAT, ICRAF, Kenya - 2 weeks in September 2006
April 2005: Competitive Grant Systems Proposal Writing Organized by the Coffee Research Network (CORNET) and Trees on Farm Network (TOFNET) of ASARECA in collaboration with Topridas Consultancy Services - 1 week in April 2005
February, 2003: Micro-credit Financing of Rural Communities by International Cooperation & Financing Tanzania {Incofin (T)} Ltd, Arusha, Tanzania - 2 weeks in Feb, 2003
October, 1998: Advanced Computer Training in SPSS & GENSTAT Windows - 3 weeks
October 1998: Policy Analysis by Kenya Institute of Administration (KIA) - 2 weeks in October 1998
February 1998: Formulation of Projects in Agriculture and Research Resources conducted by Eastern & Southern Africa Management Institute (ESAMI), Arusha, Tanzania - 3 weeks in 1998
August 1997: Training of Trainers in Project Cycle Management, Kenya Institute of Administration (KIA) - 4 weeks in July/August 1997
July 1996: Training of Trainers in Safe Use of Chemicals - 1 week
Key competences
Business economist with over 20 years of research, training, community service and administration working experience. Has widely written various kinds of reports and publications including: monthly, quarterly and annual reports; project proposals; technical and research notes; conference papers; journal papers; and book chapters. Participated in conducting trainings and supervision of post-graduate university students. Developed and managed various competitive grant winning projects implemented in the country and in the Eastern African region.
Involved in consultancy covering various aspects of research and development in the country and region, inter alia, including: market value chain analysis of gum acacia in Southern Sudan by Government of Southern Sudan for 3 months in 2010; value chain analysis of gums and resins sector in Somaliland by FAO for 2 months in 2009; feasibility study on gums and resins in Kenya and status of markets for commercialization for 4 months in 2008; socio economic analysis of the potential of Jatropha carcus and other bio-fuel crops in Kenya by Ministry of Energy for 2 months in 2009; and market analysis and development of business plans for community groups involved in environmental activities in Kitui County funded through JICA/Kenya Forest Service framework for 3 months in 2009.
Currently working as a Principal Research Economist with Kenya Forestry Research Institute (KEFRI) and currently deployed as a Regional Director for the Coast Eco-Region Research Programme. Before then, served as Technical Coordinator to the Kenya Coastal Development Project which was a multi-billion project funded by World Bank. Also offered inputs to other regional projects including "Smallholder Innovation for Resilience: Strengthening Innovation Systems for Food Security in the Face of Climate Change" funded by European Union and "Strengthening Capacities of Youth for Employment and Income Generation in Lamu County, Kenya" funded by British Government.
Mentorship and Supervision
Mentorship
Charged with the responsibility of guiding and offering mentorship to seven (7) research scientists in their respective areas of research Post-Graduate
Students Supervision
Juliah Wangui Wahome ((N50/PU/6093/15 – Pwani University). Analysing role of frugivores in seed dispersal and species richness: a case of elephants in Arabuko Sokoke Forest, Kilifi county
Wathigu Francis Kagema (MG20/PU/36240/17 – Pwani University). Investigating relationship between fuelwood consumption and forest ecological integrity: the case of Arabuko Sokoke Forest in Kilifi County, Kenya
Elisper Wanjiku Muriu (HND/PAEDS/20001/004 - Kenya Medical Training College). Awareness levels and challenges in diagnosis and management of tetralogy of fallot in babies: the case of a two years old at Kenyatta National Hospital